This interview originally appeared in the Patternfish newsletter. I'm adding it to my blog as several other interviews I did were lost when their on-line sources disappeared. The interview was published in June 2011 so some of my responses are out of date.


Designer of the Month: Robin Hunter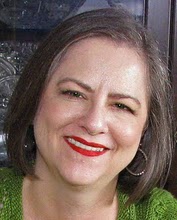 Like many other designers, Robin Hunter combined a lifelong love of textiles and fibre arts with a corporate career before happily retiring to provide Patternfish and the rest of the knitting world with her designs. A quick look through her patterns shows to what extent Hunter challenges herself. Shawls, socks, hats, and scarves in configurations at once unique and wearable are her trademark. We wait with anticipation for each of her new designs. We interviewed Hunter to find out about her designing history and views of the knitting world.
What inspires you? What are you passionate about?
I look at everything for inspiration, art, theatre, fashion and the outdoors. I love bright strong colours. I live in a condo with a huge terrace and I garden in pots. The colours of the flowers are often an influence on the colours of yarn I choose. I've been passionate about fashion, clothes and the arts all of my life.
Which design is your customers' favourite?
The two biggest sellers are the Prudence Crowley vest and the Evelyn Howard scarf. I'm working hard on growing my portfolio so my best sellers will change as I add patterns. I was very pleased that these two turned out to be popular as I feel strongly that they are true to my design aesthetic even though they are very different.
Which designers do you admire?
The interviews I've done with many fabulous designers on my blog have widened my knowledge of just how many talented designers there are. I've found admirable qualities in them all so it's really hard to narrow down to just one or two. I especially admire those who push the envelope by developing new techniques or those who take an existing technique and raise the standard. I've taken a lot of classes in the past with wonderful knitters like Sally Melville, Debbie New, Lily Chin, Annie Modesitt and Maureen Mason-Jamieson so I will give them all credit for inspiring me.
Describe your perfect day.
I get up at 6 AM with my husband, play with my cats and then snuggle into the corner of the couch to drink a great cup of coffee and read. I do a few quick household chores, some mornings I exercise and then I start working. Generally I work on the computer from 10 AM to 3 PM, blogging at http://knittingrobin.blogspot.com/, pattern writing, and developing course materials and lectures. I start knitting at 3 PM, either working on samples or swatching. Some days I spend time reading about knitting in the big three magazines or in books but I usually knit until 8.
In what ways do you spend your time that would surprise people?
I doubt that I do anything very surprising, no bizarre or peculiar behaviours that I can think of and that I'm willing to share. However I'm a voracious reader. I read blogs, books (both fiction and non-fiction) and I'm a ballet and theatre fan. I don't drive which always shocks non-urban types; however, I live within sight of a subway station in Toronto and I walk a lot which is great for both my weight and my happiness level. I also like peanut butter and bacon sandwiches.
What is your favourite knitting technique?
I'm a knitting generalist who skips from one technique to another. My interests lie in a good fit that flatters the wearer and adding details that make my work stand out as different. I have a fair bit of experience in pattern drafting and I'm very frustrated with the simplistic form that many existing knitting patterns take. There are a lot of small details that would make a big difference to the end result so I try to work out how I can best incorporate these into my patterns.
When did you start knitting? Who taught you?
I started knitting in my teens and designing in my twenties. I'm not sure who taught me to knit as I have no recollection of learning. My mother and both of my grandmothers knit so it may have been one or all of them.
What's your design process?
I approach design from several different directions but essentially I like to have design parameters. It can be the yarn itself, a silhouette that I've seen and want to adapt, a stitch pattern or a request from someone. The Pinwheel cardigan was an adaptation from a lace linen hat that I was asked to knit for a class. I was asked for a vest pattern for a magazine submission and that lead to 2 completely different designs, the Prudence Crowley vest and a more conservative design that will be published next Fall.
When did you start designing and what was the first design that you created? Which is the first that you sold?
I no longer recall my first design since I have been designing for myself since the late 70's. I started by using patterns and adapting them. I was always the kind of knitter that liked a pattern but thought it would look better with a different neckline or another modification so I would change it up in some way. I'm self publishing and the very first pattern I sold was at a shop I worked at. Karen Dinner, the owner of the shop, encouraged me to publish more widely and put me in touch with Julia Grunau of Patternfish. The Patternfish business model worked for me because I don't want to give up my own copyright and the thought of running my own website didn't appeal to me.
Which is your favourite design?
I love them all, they are my babies! I wear everything that I knit but I do end up with some favourites, the pieces I feel are the most flattering on me. My friend Mary Pat often models my designs in our Guild's fashion shows. When I see the designs without the influence of my own figure concerns, I love them even more.
Where have your designs appeared?
Currently my patterns are available exclusively on Patternfish. (With the closing of Patternfish they are now all on Ravelry and I'll adding them to LoveKnitting soon.) I plan to expand into wholesale in the next year or so. Hopefully, shops will be interested in my patterns as well as my lectures and classes. I also will have a design in the magazine A Needle Pulling Thread next fall. I dislike working to deadlines as so much of my corporate career involved very tight timelines. At this point I haven't submitted to any magazines mainly for that reason.
Do you teach/do you like it?
I love teaching! I find students very inspiring. They push me in directions that I wouldn't have thought to go on my own. I find the challenge of giving back very stimulating to my own process. At one level knitting is just yarn and 2 sticks and at another it's a complex layered web that has still has many hidden jewels left for me to discover.
Where do you think the knitting/crocheting/fibre world will be in 10 years/why?
I think it will remain very much a niche market and sub-culture as it is today. The Internet has changed things forever. We are now all connected in a way that is allowing our culture to flourish. In the past there were highs and lows and we thought the knitting traditions might die, but I now have confidence that knitting will live on and evolve.
Do you look at other designers' work?
I look at everything and I usually have one of two reactions. "Wow, why didn't I think of that" or "That would be better if you changed something".
How do you deal with criticism?
I like constructive criticism; it truly allows me to grow because it gives me a direction to focus on. That's helpful and I can learn from it. So far I've been lucky; people have been really encouraging and kind.
What advice would you give someone who wants to pursue a career in knitting design?
You have to be prepared to work long hours and have an alternative income source to get started. It's a creative pursuit for me. The market is changing right now as we go from a marketplace run by the traditional publishing world to an ever evolving model of self publishing. I think that if you are serious and focused there is potential for a fulfilling career but probably not one that will make you wealthy.
How do you maintain your life/work balance?
That is turning out to be harder than I thought it would be. I seem to be working all the time. The good news is that I love it, it's not like working for someone else and to be honest it doesn't really feel like work.